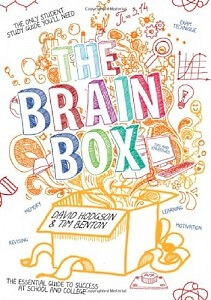 The Brain Box
The Brain Box a personal journal for each student to be their best at school boost grades, improve motivation, memory, learning and understanding, exam techniques.
It helps teachers prove they apply many Ofsted guidelines and also appeal to parents.
Buy Book
Tears, Tantrums and Tiredness
"Thanks – Without you, I'd be pretty much failing" – Student
Getting it right this exam season
Click for details
Enterprise and Employability
At Blue Caterpillar we understand that eduction needs to do more than just get students through exams. With this in mind, we offer a number of workshops which develop and hone employability skills, getting them ready for the working world.
Click for details
Learning Adventures In The Fearless Classroom
We believe staff training days need to be enjoyable, challenging and full of practical ideas.
We can make bespoke training packages that cover a variety of topics over half day, full day, workshop, keynote or twilight sessions.
Click for details