The Brain Box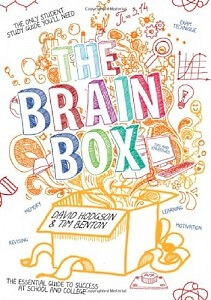 The Brain Box is your indispensable guide to powering through the stress, hard work and brain-ache of school or college. The Brain Box is a book which also helps to establish good learning habits and self-motivation which will be invaluable throughout the next stage of your life, whether that be at university, or in a career.
Published by Independent Thinking Press and co-written by Tim Benton and David Hodgson.
Available on Amazon, from Waterstones and other book sellers, in paperback and electronic formats (£9.99 RRP). Also available on Google Play.


Not a boring 'how to' book. I can't imagine anyone reading even a few pages of this book without finding a stack of handy tips for life in general… Buy it!


FANTASTIC BOOK It's a zippy, catchy, funny romp through how your brain works, how you learn and how to make the most of your chances.


Five Stars lots of useful ideas…easily accessible


A really excellent book. Just what a teenager needs to plan and understand learning and exam technique. Tim, the co-author, did a presentation at my son's school a few months ago and was very impressive. Buy this book!

Five Stars. Every student needs one of these.


A Twitter review:  BEST BOOK EVER!!
 Read the review on UKEdChat:

Check out other books available from Independent Thinking Press and Crown House Publishing.